Line of Scrimmage: Monday Morning Sentence Fragments (Week 9)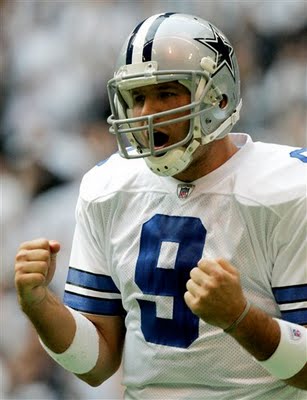 By Tony Moss, NFL Editor
Philadelphia, PA (Sports Network) - What do you think Brett Favre was doing during his bye week?
Judging by his commercials, which is how I judge most people, I would bet Favre was on the farm, wearing some Wranglers, playing touch football with a bunch of actors who look like they last played football in the 7th grade. Also a description of the Cleveland Browns, by the way.
Here's some of the other stuff I saw happen while Favre was away in Week 9:
I WAS SURPRISED THAT...
...Eli Manning failed to out-duel Philip Rivers. The battle between the No. 1 and No. 4 picks in the 2004 Draft also had an air of desperation for both teams, as the homestanding Giants had lost three straight and were looking for some positive momentum entering their Week 10 bye, while the Chargers were seeking to remain within reach of the Broncos in the AFC West. And while Manning (25-of-33, 215 yards, 2 TD, 0 INT) had a slight edge in the statistical battle with Rivers (24-of-36, 209 yards, 3 TD, 2 INT), it was the Manning-esque eight-play, 80-yard drive culminating with an 18-yard touchdown pass to Vincent Jackson with 21 seconds to play that was the difference in the 21-20 win for the Chargers (5-3). It is going to be a couple of tough weeks in Gotham for Giants head coach Tom Coughlin, who played for the field goal with under three minutes to go and New York ahead, 17-14, after a Rivers interception had set them up inside the San Diego 5-yard-line.
...the Bengals trucked the Ravens, 17-7. This was nearly a must-win situation for Baltimore, which could hardly afford to get swept by Cincinnati, fall two games back of the AFC North lead, and give away the tie-breaker to the Bengals. Despite the stakes, John Harbaugh's team came out flat and was beaten in every aspect of the game, with Joe Flacco (18-of-32, 195 yards, 2 INT) consistently failing to sustain drives, the Ravens defense having major trouble getting the Bengals offense (369 total yards, 40:00 time of possession) off the field, and the special teams hammering the final nail into the coffin when (soon-to-be-ex?) kicker Steve Hauschka missed a 38-yard field goal that would have pulled Baltimore within 17-10 with 6:17 to play. Now, the Ravens (4-4) will have to resign themselves to playing for the wild card, unless something extreme happens. The question now becomes, are they even wild card-worthy?
...Josh Freeman was the answer for the Buccaneers under center. Freeman was about a month removed from being Tampa Bay's third quarterback, and it did not seem that the combination of his inexperience, the Bucs' defensive mediocrity, and the Packers' desperation for a win would produce win number one of the Raheem Morris era. But the first-rounder Freeman (14-of-31, 205 yards) threw three touchdown passes versus just one turnover despite the absence of top receiver Antonio Bryant, the Bucs scored touchdowns off a blocked punt return and interception return, and Tampa Bay shocked the heavily-favored Packers, 37-27. No word on whether Tampa will be breaking out those creamsicle-colored throwback uniforms until further notice. Green Bay (4-4), meanwhile, has found something worse than being swept by Brett Favre.
...the Bears were lit up like a Christmas tree by the Cardinals. Chicago defensive tackle and colossal 2009 disappointment Tommie Harris set the tone for this one, earning an ejection a little more than a minute into the game when he threw a sucker-punch at the back of the head of Cardinals' offensive lineman Deuce Lutui. Things would get uglier for Chicago, which fell behind 31-7 at the half in an eventual 41-21 Soldier Field stomping. Arizona churned up 439 yards of total offense in the game, and the Bears were particularly clueless to stop wideout Larry Fitzgerald (9 receptions, 123 yards, 2 TD). The Cardinals (5-3) are now 4-0 on the road for the first time since 1982. In other news...have the Vikings clinched the NFC North yet?
...Tony Romo kept rolling. Romo had looked great during the three-game winning streak that preceded Dallas' Week 9 trip to Philadelphia, but it was appropriate to question whether Romo's numbers had been inflated in large part by the weak secondaries of the Chiefs, Falcons, and Seahawks. But against a talented Philadelphia defense with a strong secondary and pass rush, Romo was a crisp 21-of-34 for 307 yards with a touchdown and an interception in a 20-16 win that put Dallas (6-2) atop the NFC East as the 2009 season made the turn. The big blow for the Cowboys was a 49-yard touchdown pass to Miles Austin in the fourth-quarter that broke a 13-13 tie. Next step for Romo? Shed the "Mr. November" tag.
...the 49ers couldn't find the win column against the one-win Titans. After the way they held Peyton Manning and the Colts in check in a losing effort last Sunday, it seemed logical that the hard-hitting Niners would be able to get well at home against the...uh...somewhat less efficient Vince Young. But San Francisco made things easy on Young (12-of-19, 172 yards, 1 rushing touchdown) by committing four turnovers, including an Alex Smith interception that was returned for a game-sealing touchdown by Titans cornerback Cortland Finnegan late in the fourth quarter. Three of Tennessee's five scoring drives went for fewer than 40 yards. San Francisco (3-5) dropped two full games back of the Cardinals (5-3) in the NFC West, and the Niners' once-promising season now appears to be on life support.
I WAS NOT SURPRISED THAT...
...the Texans came up short against the Colts. There was a lot of talk coming into this game about the ascendance of the Texans, and how the injury-riddled state of the Colts defense was going to make it difficult to keep Houston from lighting up the Lucas Oil Stadium scoreboard. But, although Matt Schaub had a 300-yard passing day and the Texans led as the clock ticked under five minutes, Peyton Manning once again had the last word in a 20-17 Indianapolis victory. Manning was 34-of-50 for 318 yards, a touchdown and an interception against a porous Houston secondary, and Joseph Addai scored a pair of touchdowns, including the game-winner. A 42-yard field goal attempt by Kris Brown that would have sent the game into overtime fell wide-left. The Colts (8-0) are now four games up on the Texans (5-4) and Jaguars (4-4) in the AFC South loss column, and can now start thinking about things like homefield advantage.
...Randy Moss had a day against the Dolphins. Miami's young secondary had played reasonably well thus far in 2009, but faced a step-up in challenge against the Patriots passing attack, which spread the Dolphins out and kept them off-balance. Though Miami battled until the finish, it was Moss (6 receptions, 147 yards) that struck the biggest fourth-quarter blow, taking a Tom Brady pass late in the third quarter and sprinting for a 73-yard touchdown that broke a 17-17 tie. New England would prevail, 27-17, in a game that saw Moss tie Terrell Owens for second-place in NFL history with his 140th career touchdown catch. Jerry Rice is tops on the list with 197.
...the Panthers came to play against the Saints. Carolina had owned New Orleans for the better part of this decade, especially on the road, where they were 7-0 since last losing at the Superdome all the way back in 2001. Clearly, John Fox knows what he's doing against his former New York Giants staff-mate Sean Payton, and the Panthers gave the Saints all they could handle until New Orleans flexed its muscles late in a 30-20 win. With the Saints ahead, 23-20, DeAngelo Williams put a damper on an otherwise brilliant effort (21 carries, 149 yards, 2 TD) by fumbling in the shadow of his own end zone. New Orleans defensive tackle Anthony Hargrove picked up the loose football, effectively fell into the end zone, and put the Panthers (3-5) away. The Saints are 8-0 for the first time in franchise history.
...the Falcons got well. Atlanta's once-strong playoff prospects had been called into question during a two-game losing streak, in which Matt Ryan had looked shaky and an injury-depleted secondary had struggled to slow the passing attacks of the Cowboys and Saints. But Mike Smith's team had the perfect opponent to cure their ills, as the Redskins spotted Atlanta a 24-3 lead and never fully recovered in a 31-17 contest that was briefly close in the fourth quarter. Michael Turner (18 carries, 166 yards, 2 TD) scored on runs of 30 and 58 yards, and Jason Campbell (15-of-22, 196 yards, 1 TD, 1 INT) failed to get the Redskins (2-6) over the 17-point plateau for the eighth straight time. The Falcons (5-3) are now 11-1 at the Georgia Dome during the Mike Smith era.
ORDER OF MERIT
Inspired by the report earlier today by ESPN's Adam Schefter that the Cleveland Browns have offered Mike Holmgren a Bill Parcells-like role as the team's "football czar," here is the order in which I'd hire the Super Bowl- winning coaches who have professed a desire to coach again:
5. Brian Billick. Billick doesn't seem to be mentioned too often relative to coaching vacancies, which probably has a lot to do with the number of heavy- hitting ex-coaches on the open market, but it would be a shame if the 55-year- old Billick fails to get another shot. He was 85-67 in nine seasons with the Ravens (1999-2007), including a Super Bowl win in his second year, and won 10 or more games four times in highly-competitive divisions. We'd like to see how Billick's cerebral approach would play in, say, Oakland.
4. Bill Cowher. When Cowher walked away from the Steelers after the 2006 season, it was believed that he'd be able to pick his next job, but Cowher declined to put himself in the mix for vacancies in both Cleveland and Washington. Conventional wisdom says the North Carolina resident is holding out for the Panthers job, but Carolina fans shouldn't have visions of multiple, immediate Lombardi Trophies dancing in their heads...It took Cowher 14 years to win a Super Bowl, and he would have been fired by most other organizations after he presided over three straight postseason-less seasons in 1998-2000.
3. Mike Holmgren. Browns fans should be excited about the prospect of Holmgren coming to C-Town. Clearly, a man who coaches in three Super Bowls with two different organizations over a 17-year head coaching career knows what he's doing. But remember that Holmgren was eventually stripped of GM duties in Seattle after a few inconsistent years, and he only won more than 10 games once in 10 years with the Seahawks (1999-2008). Still, right about now, regular 9-7s sound like music to the ears of Browns fans.
2. Jon Gruden. Gruden's hiring as a head coach would rob us of a great analyst, as Gruden's work on Monday Night Football this season has raised the credibility of that broadcast franchise immensely. And, though Gruden's Tampa Bay teams were wildly inconsistent during his seven years there (2002-08), clearly the 46-year-old understands what it takes to put a winning product on the field. Though his Super Bowl team in 2002 was his most talented, Gruden's strength was doing more with less in stints with the Raiders and Bucs, and that should be mighty appealing to any franchise looking to rebuild.
1. Mike Shanahan. Shanahan's message grew stale near the end of his 14-year tenure with the Broncos (1995-2008), but if you're looking for a man to field a team that can score points and fill seats in your stadium, Shanahan is your guy. The 57-year-old will probably insist on personnel control, which is a problem given his inability to field an adequate defense during the end of his run in Denver, but an organization that already has some defensive talent in place can expect to win immediately with Shanahan calling the plays.